Before joining Southalls, I spent many years as a health and safety inspector investigating a range of health and safety incidents. Sadly, some of these accidents resulted in fatalities or serious life-changing injuries. I quickly discovered that many business owners felt swamped by health and safety regulations. They lacked both the support and knowledge they needed, to enable them manage health and safety within their business more effectively. Others had the support they needed, and whilst they had the greatest intentions of promoting a positive safety culture, they were struggling to manage their over complicated system. Whether it be a spreadsheet or an off the shelf product, that did not reflect daily demands of their business.
I understand that every business is unique - the demands and pressures on businesses vary, and this impacts how health and safety is managed within every business. I have the pleasure of being able to work with other former regulators and industry experts within the Southalls team, enabling us to provide clients with bespoke health and safety documentation that reflects how each business operates. We do not look to force an off the shelf product into your business but look to tailor a service that meets your individual business needs.
I am also aware from the work I have undertaken with clients who are accredited to OHSAS18001 (and are transitioning to ISO45001), that compliance to these standards is really important. It will become increasingly critical as the transition deadline in 2021 grows nearer now. I understand also, that for compliance audits to be as seamless as possible, you need to be able to access the right information quickly.
The new ISO45001 standard opens the door to cloud based systems being used for the storage of documentation. I have therefore spent the past year working with the Southalls team to ensure that Safety Cloud continues to deliver confidence to auditors, to help businesses achieve compliance to ISO45001, and to enable information to be accessed quickly - on desktop computers, tablets and mobile phones.
Safety Cloud shares a key principle with both, OHSAS18001 and ISO45001, in that it is designed to help a business meet the plan, do, check, act principles, found within Health and Safety Executive guidance HSG65 'Managing for Health and Safety'. These principles are embedded within the new ISO45001 standard, and it is therefore important that the health and safety management system you use also follows these principles. The core functionality of Safety Cloud is built around these principles, and provides you with the ability to:
plan

and record

your health and safety objectives,

do

audits to assess your performance,

receive emails to

check

when risk assessments, training and work equipment servicing are due, and

act

by updating records and recording your findings to demonstrate your compliance.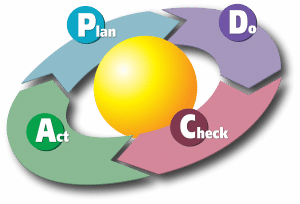 Moving forwards we have also reviewed Safety Cloud to ensure that the additional requirements placed on businesses transitioning from OHSAS18001 to ISO45001 can be recorded within Safety Cloud. Safety Cloud enables you to:
Detail the context of your organisation within you health and safety policy and list your performance indicators and objectives as actions which can be closed off as they are completed allowing full traceability on how you are performing against your objectives.

Demonstrate your commitment to leadership and worker participation by providing staff with electronic access to health and safety meeting minutes and assigning actions to designated staff and allowing staff to log safety observations even anonymously so that these can be investigated and closed off.

Demonstrate staff understanding of the hierarchy of control by setting health and safety knowledge quizzes so you can evidence that staff understand the significance of control measures in their work area.

Using audit scores and uploading a legal register into Safety Cloud to enable you to assign actions to specific staff with responsibilities so you can track your compliance status.

Manage contractors and subcontractors by recording risk assessments, method statements, insurance, permits to work and even contractors CSCS, IPAF and PASMA training records so that you can have complete confidence that contractors working on your sites are approved and competent.
[embed]https://www.youtube.com/watch?v=7mKKiomRR1w[/embed]
I've been present when several of my clients have been inspected by health and safety regulators and OHSAS18001 auditors, and I believe that Safety Cloud is simply an essential tool to helps you demonstrate the continual improvement within your business with confidence. Using the core plan, do, check, act principles; you can provide assurance to both regulators and auditors, that you are maintaining an effective health and safety management system.
Whether you are looking for a fresh approach to managing health and safety or planning to transition to ISO45001, I am here to support you. Equally, I have seen how Safety Cloud can relieve pressure on smaller family businesses and help provide a management platform to large multi-sited businesses. I would relish the opportunity to take you through our health and safety management software in person. Should we pencil it in?
Andy Hall
Don't take the risk of ISO 45001 non compliance - contact us today!