The HSE has published their latest Health and Safety Statistics 2018, providing a revealing insight into present day challenges in the workplace. 30.7 million days were lost due to work-related ill health and workplace injuries in 2017/18 overall.
Reviewing these statistics provides us with an understanding of the key risk areas and enables businesses to focus effort and expenditure in the right areas, to reduce these risks.
Work-related Ill Health
1.4 million working people are suffering from work-related ill health, and 26.8 million working days are lost due to work-related ill health. As you can see below the highest percentage of new and long-standing cases of ill health and working days lost by type of ill health is attributable to stress, depression or anxiety.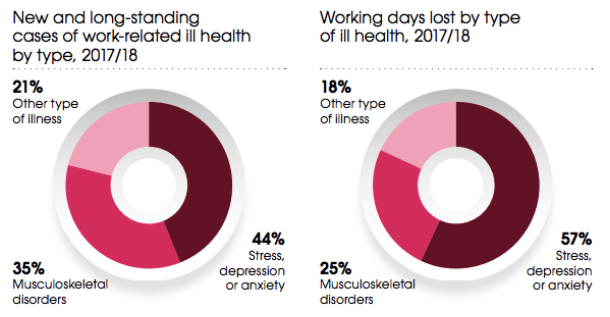 Work-related Stress
This shocking statistic cannot be ignored. The mental health of the UK population has been under the spotlight this past year, and these statistics concur with general media discussion on increasing concerns over mental health and mental well-being.
How does the law apply to stress?
All employers have a general duty to look after the welfare of employees under the 'Health and Safety at Work Act 1974' and to assess and manage risk to their staff under '`Management of Health and Safety at Work Regulations 1999'. This includes assessing and minimising the risk of stress-related illness.
Work-related stress is defined as "A harmful reaction people have to undue pressures and demands in the workplace".
How to tackle stress in your workplace
Knowing what you can do as an employer to tackle work-related mental health issues can be tough… The HSE has produced 'Management Standards for Work-Related Stress' to help. This sets out six key areas to look at:
Demand – workload, work patterns, and work environment.

Control – employees say in how they do their job.

Support – encouragement and resource provision.

Relationships – promoting positive working and avoiding conflict, e.g., bullying/harassment.

Role- helping employees understand their role and responsibilities.

Change – management and communication of change.
Workplace Injuries
Devastating reports indicate that 144 workers were killed at work in 2017/18.

There is a long-term downward trend in the rate of fatal injury to around 2012/13, more recently the rate has been broadly flat.

There were

555,000 non-fatal injuries to workers according to the Labour Force Survey in 2017/18, and 3.9 million working days are lost due to non-fatal workplace injuries.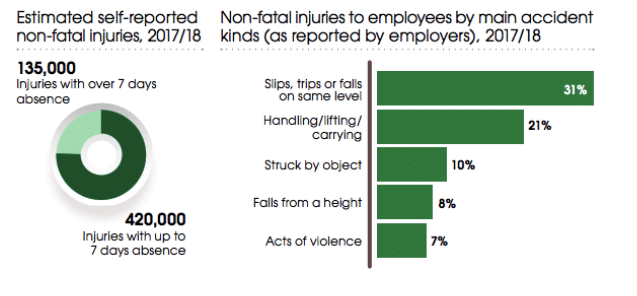 As you can see the highest rate of non-fatal injuries to employees is slips, trips or falls on the same level at 31%.
71,062 employee non-fatal specified injuries were reported by employers under RIDDOR in 2017/18.
Cost Impact
£15.0 billion is the predicted annual cost of work-related injury and new cases of ill health in 2016/17 (excluding long latency illness such as cancer).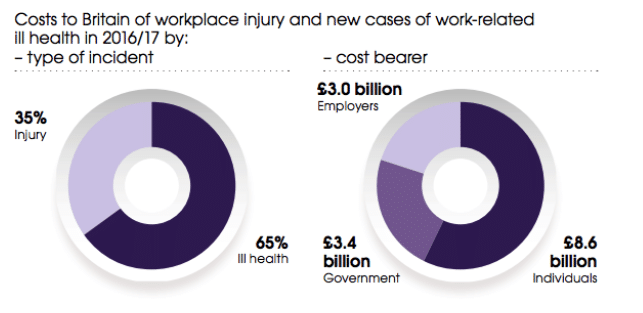 The cost impact of lost working days on businesses is huge. Accident and ill-health costs can be likened to an iceberg: costs that are recoverable are visible, but those that are unrecoverable are hidden below the waterline and are many times greater. The HSE estimates the hidden cost of accidents can be up to 10 times greater than the insured costs.
At Southalls, we work one-to-one with businesses to achieve real improvements in safety standards with measurable reductions in workplace accidents and associated lost days. Safety Cloud, our safety compliance software, helps you streamline all aspects of your health and safety management. If you would like further information about how Southalls or Safety Cloud can help you, please book a consultation with our advisors below:
If you want further in-depth detail on stats and facts, please visit www.hse.gov.uk.